Texas Tech hiring Oregon defensive coordinator Tim DeRuyter, per report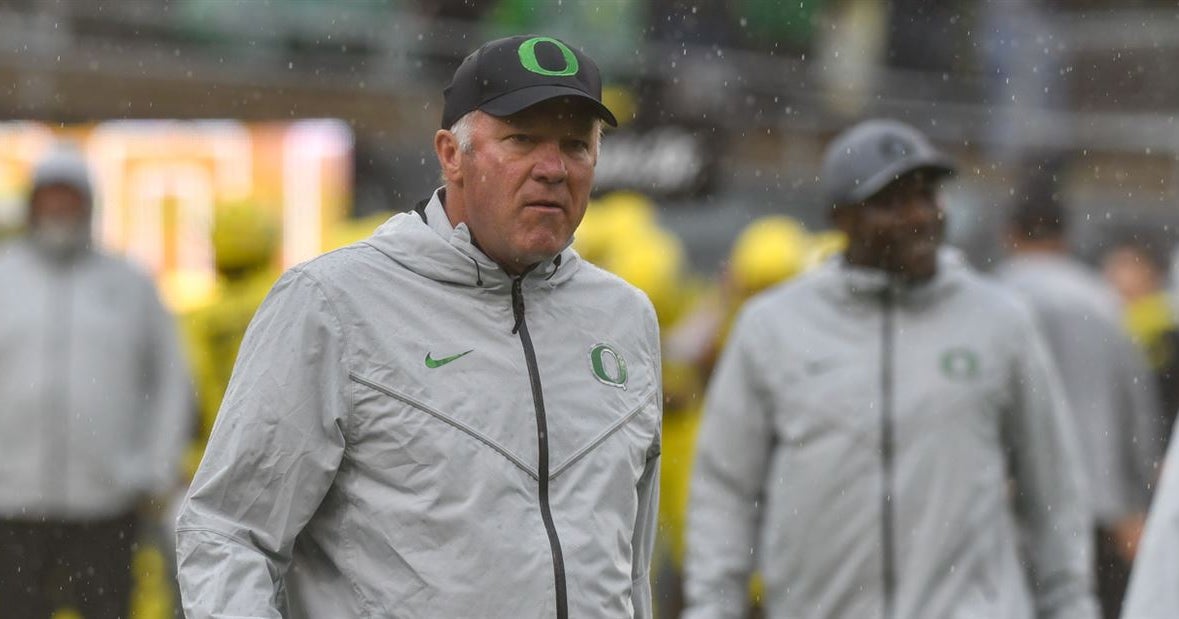 Texas Tech will hire Oregon defensive coordinator Tim DeRuyter in the same role to Joey McGuire's staff, according to Austin Massey of Inside The Red Raiders. The news comes days after Oregon head coach Mario Cristobal left the program to become the next head coach at Miami.
The news means that the Ducks have now lost their head coach and both coordinators within the past week. Oregon offensive coordinator Joe Moorhead was named the head coach at Akron this past weekend before news broke of Cristobal leaving Eugene, now followed by DeRuyter. Oregon finished the regular season ranked fifth in the Pac-12 in total defense under DeRuyter's watch in 2021, and the group was headlined by edge rusher and potential top 2022 NFL Draft pick Kayvon Thibodeaux.
It was the first season at Oregon for DeRuyter. He was previously on staff at Cal under Justin Wilcox as a defensive coordinator and linebackers coach from 2017-2020, a run which came after a five-season stint as the head coach at Fresno State from 2012-2016. He had a previous stop in the Lone Star State an an assistant at Texas A&M from 2010-2011 under Mike Sherman, briefly serving as interim coach after A&M and Sherman parted ways at the end of the 2011 season.
With DeRuyter, both offensive and defensive coordinator positions would now be filled on McGuire's staff. The Red Raiders hired Western Kentucky offensive coordinator Zach Kittley away from the Hilltoppers to join Texas Tech in the same role earlier in the week. Kittley is a Lubbock native who got his start in the coaching industry at Texas Tech under former coach Kliff Kingsbury.
WKU put one of the most explosive offenses in college football on the field this season en route to an appearance in the Conference USA title game, where the Hilltoppers fell on the road against UTSA. The Hilltoppers ranked second behind only Ohio State with 528.5 yards per game, third nationally with 7.08 yards per play and first nationally with 434.6 passing yards per game. Kittley ran a pass-heavy offense, as WKU ran for just 93.9 yards per game — 125th of 130 FBS schools.
McGuire has hit the ground running in Lubbock and appears poised to bring the Red Raiders back to the true Air Raid offense that the program has long been known for. 247Sports recruiting analyst Mike Roach joined the College Football Daily podcast recently to discuss the McGuire hire in Lubbock.
Get the fastest scores, stats, news, LIVE videos, and more. CLICK HERE to download the CBS Sports Mobile App and get the latest on your team today.
"He's an energetic guy," Roach said of McGuire. "He's a relationship builder. He's a culture builder. And he's a program builder. He was a big part of the reason — if you recall, when Matt Rhule took over at Baylor, a criticism there was that he didn't have any Texas ties. McGuire was one of the first hires he made, and that went a long way within the Texas high school coaches.
"Joey is a legend within those ranks. He has relationships all over Texas and really all over the college game. What I really love is how it kind of follows the model of Jeff Traylor who, weirdly enough, McGuire and him are very close and would probably be working on the same staff if it wasn't for them both being head coaching candidates."